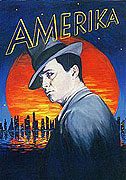 Amerika
(America)
Drama
Czech Republic, 1994, 90 min
* The information on films and the photographs are
automatically generated from the csfd.cz database.
Postmodernistická vize nedokončeného románu Franze Kafky Nezvěstný. Do Ameriky počátku 20. století, země velkých vzletů i velkých pádů, přijíždí mladý Čech Karel Rossman. Strýc Jakob, který je zde považován za nejbohatšího muže, jej přijme jako vlastního syna pod podmínkou Karlovy absolutní podřízenosti. V tvrdých poměrech, tolik vzdálených idylické Evropě, však mladý muž neobstojí, a je proto strýcem tvrdě a nečekaně zavržen. Amerika mu tak nastaví svoji druhou tvář - stává se z něj vyděděnec bez budoucnosti. Východisko z krušné situace hrdina nalezne s pomocí věčně opilého námořního topiče v cestě do vzdálené Oklahomy po boku hodné servírky Terezy.
CZECH LION AWARDS – AWARD WINNINGS AND NOMINATIONS