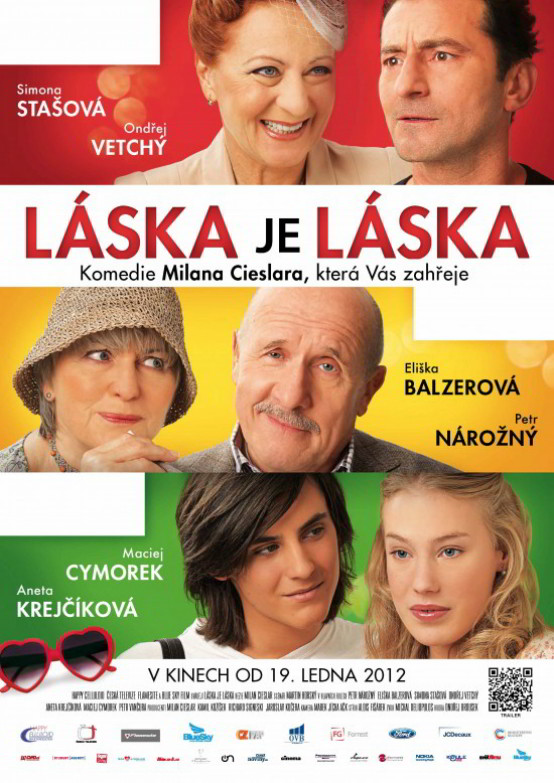 Láska je láska
(Love is Love)
Comedy / Drama
Czech Republic, 2012, 104 min
* The information on films and the photographs are
automatically generated from the csfd.cz database.
Osmnáctiletá Maruška žije se svým dědečkem Vlastimilem, touží potkat svého prince a prožít romantickou lásku, jakou zatím zná jen z filmů. Svého vysněného prince skutečně potká. S Markem prožije krásné prázdniny, první milostné dobrodružství, ale také první zklamání... To, že pravá láska nikdy neodkvete, zjišťuje i Maruščin dědeček Vlastimil. Po letech potkává svoji dávnou lásku Libušku. Jsou jako dva mladí zamilovaní blázni. Je to láska s vůní marihuany. Vtipná a svérázná důchodkyně Libuška totiž na stará kolena propadla této léčivé bylině... Honza je Maruščin soused i nejlepší kamarád. Je přistižen svou matkou Zdenou, jak se líbá v autě s mužem. Úspěšná manažerka se však nehodlá smířit se synovou orientací. Rozhodne se ho předělat na "normálního kluka". To ale přináší jen spoustu komických situací. Aspoň, že Honzův táta Karel má pro syna pochopení. Karel je bývalý ligový fotbalista, dnes už jen údržbář na stadionu. Žije vedle své dominantní manželky život ušlápnutého muže, který se jednou za čas, když je pod vlivem alkoholu, odhodlá k neúspěšné domácí vzpouře...