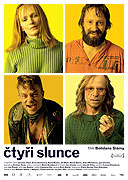 Čtyři slunce
(Four Suns)
Drama / Comedy
Czech Republic, 2012, 98 min
* The information on films and the photographs are
automatically generated from the csfd.cz database.
Kolik sluncí je třeba, abychom byli šťastní? Příběh rodiny a jejích přátel z menšího města vypráví o touze proměnit svůj život k lepšímu, ale také o tom, jak často jsou děti ovlivňovány přešlapy svých rodičů. Téměř čtyřicetiletý, ale pubertou doposud zmítaný otec od rodiny Jára (Jaroslav Plesl) se stále nepoučil z vlastních chyb a jeho úlety s sebou přinášejí komické momenty. S partnerkou Janou (Anna Geislerová) vychovávají dvě děti. Starší z nich je dospívající syn z Járova prvního manželství Véna (Marek Šácha), který v příběhu sehraje klíčovou roli po boku staršího kamaráda, punkáče Jerryho (Jiří Mádl). Jana prožívá krizi v manželství, ta vyvrcholí v momentě, kdy Járu vyhodí z práce a ona si najde milence (Igor Chmela). Lavinu nečekaných událostí z povzdálí sleduje a možná nakonec ovlivní místní guru Karel, jehož ztvárnil v nezvyklé herecké poloze Karel Roden.