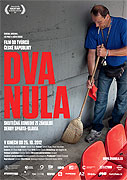 Dva nula
(Two Nil)
Documentary / Sport
Czech Republic, 2012, 104 min
* The information on films and the photographs are
automatically generated from the csfd.cz database.
Na fotbalovém stadionu v centru Prahy se chystá největší fotbalový zápas roku, Sparta dnes večer hraje se Slavií. Začíná přímý přenos. Dvacet dva filmových kamer ale tentokrát nemíří na hřiště, nýbrž do hlediště. V něm se totiž nachází velmi různorodá a vtipná společnost, která stojí za pozornost víc než samotný fotbal: jsou tu upovídaní pořadatelé, pečlivě oblečené dámy z VIP, rozjívení žáčci fotbalové přípravky, distingovaní intelektuálové, fanatičtí sázkaři, dezorientovaní italští turisté, chlapáčtí členové ochranky nebo třeba známí komentátoři jedné televizní stanice. Ti všichni sem přišli sledovat stejný zápas, každý z nich jej ale prožívá po svém. A každý se přitom projevuje takový, jaký doopravdy je. Jeden se ptá, jestli se smí fackovat tchýně, druhý pátrá, kam se v Chile podělo prezidentské pero, třetí se třese, zda dostane trest za použití slova gorila. Před očima nám tak postupně ožívají různá patra tribuny i různá patra dnešní společnosti. A humor a autentičnost tu nakonec vítězí 2:0.
CZECH LION AWARDS – AWARD WINNINGS AND NOMINATIONS
2012 | Film reviewers award for best documentary |
Pavel Abrahám
NOMINATION