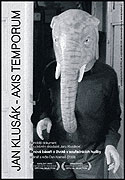 Jan Klusák - Axis Temporum
(Jan Klusák - Axis temporum)
Documentary
Czech Republic, 2009, 57 min
* The information on films and the photographs are
automatically generated from the csfd.cz database.
Černobílý dokument zastihuje skladatele Jana Klusáka v ose času (axis temporum) mezi 70. a 75. rokem života s nesmírnou vitalitou, šarmem a vtipem. Jan komponuje a sleduje zrod stěžejní skladby tohoto období v nastudování Petra Altrichtera, pouští nás do svého dětství, které ožívá ve fotografiích jeho milovaného tatínka, který zahynul v Osvětimi, neotřele charakterizuje svá různá šťastná i těžká období, kdy nesměl být hrán. V osudu Jana Klusáka jsou hluboce zakódovány tragické momenty dějin 20. století. Vše prostupuje jeho hudba – hudba jako životní postoj.