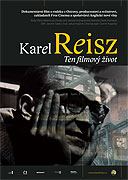 Karel Reisz, ten filmový život
(Karel Reisz - A Life of Film)
Documentary / Biography
Czech Republic, 2012, 90 min
* The information on films and the photographs are
automatically generated from the csfd.cz database.
Dokumentární film o Karlu Reiszovi, vedle Miloše Formana nejslavnějším filmaři českého původu. Film zachycuje zajímavý osobní i pracovní příběh muže, který si odnesl ze svého dětství v Ostravě a Československu vklad pro založení Free Cinema a anglické Nové vlny.