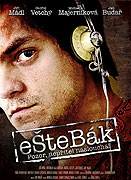 Konfident
(The Confidant)
Drama / Comedy / History / Thriller
Slovakia / Poland / Czech Republic, 2012, 108 min
* The information on films and the photographs are
automatically generated from the csfd.cz database.
Hrdina filmu Konfident Adam pracuje po absolvování základní vojenské služby jako dispečer na sportovním letišti poblíž někdejší západní hranice Československa, kde prožívá i vojenskou invazi v srpnu 1968. Aniž si to tehdy sám uvědomí, právě tam začíná jeho dramatický příběh... Aby zachránil svou lásku Evu proti represím StB, podepíše "smlouvu s ďáblem". Stane se profesionálním agentem, jehož prací je odposlouchávat lidi a shromažďovat na ně kompromitující materiály. Brzy ale zjistí, že i on je sledován. Když se pokouší najít odpověď na otázku proč, vrací ho pátrání do doby, kdy se stal na vojně svědkem vražedného rozkazu. Jeho tehdejší velitelé jsou dnes mocnými muži a Adamovo svědectví by bylo velmi nepohodlné. Dokáže Adam přežívat v atmosféře strachu a nejistoty, kde se nedá nikomu věřit? S rostoucími pochybnostmi sílí i jeho touha z toho temného labyrintu uniknout. Útěk však znamená být vždy o krok před nepřítelem. Bude na to mít Adam odvahu?
CZECH LION AWARDS – AWARD WINNINGS AND NOMINATIONS
2012 | Best cinematography |
Jan Malíř
NOMINATION