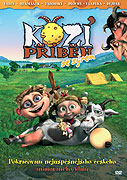 Kozí příběh se sýrem
(Goat Story with Cheese)
Animation / Fairy Tale / Comedy / History
Czech Republic, 2012, 85 min
* The information on films and the photographs are
automatically generated from the csfd.cz database.
Kozí příběh se sýrem volně navazuje na předchozí díl. Děj filmu se přenese ze středověké Prahy do pohádkového sýrového království a kromě starých známých postav se mohou diváci těšit na řadu pohádkových bytostí a nové hlavní hrdiny – děti Kuby a Máci - Honzíka a Zuzanku, kteří spolu s Kozou procházejí celým příběhem. Celkové ladění filmu je více rodinné a pohádkové, než v předchozím díle.