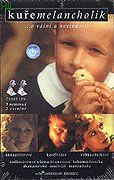 Kuře melancholik
(The Melancholy Chicken)
Drama
Czech Republic, 1999, 114 min
* The information on films and the photographs are
automatically generated from the csfd.cz database.
Děj se odehrává začátkem 20. století. Malý Lojzík, kterému blesk zabil matku, žije na statku se svým otcem a starým čeledínem. Drsný svět ho naučil vnímat obrazy, které mu připomínají ztracenou matčinu náruč. Mezi lidmi marně hledá člověka, na kterého by se mohl znovu citově upnout. Oporu a bezpečí nenachází ani u otce, ani u matčiny sestry ani u macechy Rózy, i když ta jako jediná měla s chlapcem soucit na začátku jejich společného soužití. Jediný, kdo s Lojzíkem skutečně sdílí jeho úděl opuštěného mláděte je obyčejné kuře...
CZECH LION AWARDS – AWARD WINNINGS AND NOMINATIONS
1999 | Best actor in a leading role |
Karel Roden
NOMINATION