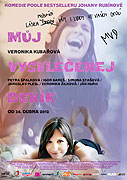 Můj vysvlečenej deník
(My Naked Diary)
Comedy
Czech Republic, 2012, 102 min
* The information on films and the photographs are
automatically generated from the csfd.cz database.
Johana má tři kamarádky, dva kamarády, tátu a macechu. Kasandru, která není promiskuitní, jen s "tím" nemá žádnej problém, Káču, kterou doma terorizuje otec, Andy, která miluje Vektora a ještě mu to neřekla, Vektora, kterej miluje Andy a ještě jí to neřekl, a chytrýho kluka, co moc kouří trávu a říká se mu Hagrid. Taky tátu, co býval novinář a rocker a teď píše do bulváru a macechu Sábu, kterou nemůže vystát. Počty kamarádů a rodičů se ale změní. Johana se totiž nečekaně zamiluje, začne pátrat po muži ze starých dopisů, který znal její mámu, když byla naživu a který by mohl být jejím biologickým otcem, a její deník, kde je úplně všechno, chtějí vydat jako knížku. A ani ty depky už nejsou, co bejvaly.