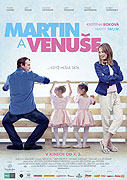 Martin a Venuše
(Martin and Venuse)
Comedy / Romance
Czech Republic, 2012, 102 min
* The information on films and the photographs are
automatically generated from the csfd.cz database.
Příběh filmu začíná před 10 lety, na vernisáži obrazů, kdy se mladá a nadějná výtvarnice Vendula (Kristýna Boková) seznámí se svým budoucím partnerem a manželem Martinem (Marek Taclík). Společně založí rodinu, mají dvojčata – holčičky - předškolního věku a jednoho kluka, batole. Martin buduje kariéru ve firmě vyvíjející hračky a Vendula se stará o rodinu. Martin je většinu času v práci, snaží se zabezpečit rodinu, na kterou mu nezbývá čas, naopak Vendula se stará o děti a chod domácnosti a nemá žádný prostor pro sebe. Každý dělá pro rodinu maximum, ale zároveň se cítí nedoceněný tím druhým. Události naberou spád uzavřenou sázkou, kdy Martin slíbí, že se postará o děti a domácnost během jednoho měsíce. Je přesvědčen, že to vlastně není vůbec těžké. Nastane kolotoč humorných a nečekaných událostí, které dvojici Venduly a Martina pomyslně vrátí zase na začátek jejich vztahu. Znovu si začnou vážit jeden druhého a navzájem se respektovat.