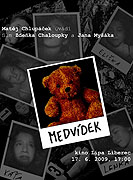 Medvídek
(Teddy Bear)
Short
Czech Republic, 2009, 9 min
* The information on films and the photographs are
automatically generated from the csfd.cz database.
Druhý filmový počin tvůrců snímku DESET. Jak mohou moderní technologie pomoci při pátrání po pohřešovaných osobách? Policii se nedaří zastavit řádění masového vraha malých holčiček. Další obětí se má stát desetiletá Anička a pro její zachránce začíná boj s časem.