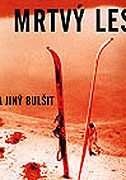 Mrtvý les a jiný bulšit
(The Dead Forest and Other Bullshit)
Comedy / Drama / Experimental
Czechoslovakia, 1990, 100 min
* The information on films and the photographs are
automatically generated from the csfd.cz database.
Pásmo Mrtvý les a jiný bulšit je složeno ze čtyř krátkých filmů. Úvodní snímek Narozeniny v parku byl natočen v petřínských sadech za pouhý jeden den. Stárnoucí oslavenec v něm zoufale prosí Kašpara, aby ho udělal mladším. Černobílý film Sklizeň je drsný příběh dvou stařenek v nemocničním pokoji, který svého času vyvolal na FAMU polemiku o filmařské etice. Základ scénáře k filmu Vychovatel ke strachu vznikl použitím techniky psychického automatismu v létě roku 1987. Postava Vychovatele je personifikací tušeného pocitu strachu a ohrožení a tak, jak se v průběhu filmu tajuplně zjeví na svých starodávných lyžích, tak na konci filmu zmizí. Posledním filmem v celovečerním pásmu je Mrtvý les, podivný příběh frustrovaného mykofága a jeho ženy - autosexuální psychoerotičky. V jedné se ze svých prvních filmových rolích se zde objevil herec Tomáš Hanák.