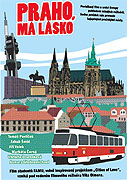 Praho, má lásko
(Prague, My Love)
Anthology
Czech Republic, 2012, 70 min
* The information on films and the photographs are
automatically generated from the csfd.cz database.
Úvodní příběh s názvem "Panorama" vypráví o složitém vztahu ctižádostivé fotografky (Jaromíra Mílová) a jejího syna, který pracuje jako messenger (Michal Kern). Díky fotografiím Pražského hradu se spolu snaží navázat ztracenou komunikaci. Hrdinkou druhé povídky "Právnička" je cizinka (Alla Alexandrov), která si přišla do Prahy splnit svůj sen. Realita industriální Libně ale neodpovídá její představě. Aby vůbec dokázala přežít, naučila se klamat sebe i své okolí. Z každodenního stereotypu ji vytrhne náhodné setkání s řidičem tramvaje (Jan Budař). Ve slepé uličce se octli protagonisté povídky "Obyčejný jízdní řád" (Marie Doležalová, Matěj Nechvátal) - Ona vyznává pevný řád ve všem, co dělá, On životem jen tak proplouvá. Jejich světy se protnou na jeden den, ale možná je toto setkání ovlivní na celý život. Poslední povídka "Tajemství památníku" zkoumá nadpřirozené jevy odehrávající se v okolí Národního památníku na Vítkově. Dva novináři (Jakub Šmíd, Lucia Kajánková) pátrají po stopách minulosti, ale až jejich setkání s osamělým vrátným (Petr Jeništa) vrhne na celý případ jiné světlo.