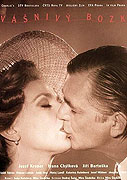 Vášnivý bozk
(Passionate Kiss)
Drama
Czech Republic / Slovakia, 1994, 85 min
* The information on films and the photographs are
automatically generated from the csfd.cz database.
Tridsaťročná Hana (Ivana Chýlková) sa dostáva do životnej krízy. Objaví neveru svojho muža Igora (Jiří Bartoška) a jej život, podriadený manželovi, sa zrazu spochybňuje. Hana prechádza celým reťazcom zvláštnych a neočakávaných stretnutí a prežitkov, ktoré ju privedú až k zásadnému životnému rozhodnutiu. Hana sa ako človek oslobodzuje a dokáže voliť - medzi svojim mužom a chorým synom...