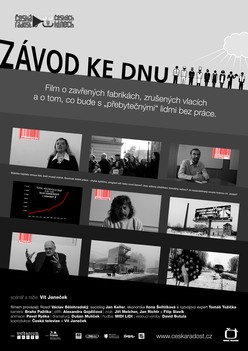 Závod ke dnu
(Race to the Bottom)
Documentary
Czech Republic, 2011, 82 min
* The information on films and the photographs are
automatically generated from the csfd.cz database.
Snímek diskutuje na konkrétních příkladech otázky nezaměstnanosti, odborů, práce či lidské mobility. Filosof Václav Bělohradský, sociolog Jan Keller, ekonomka Ilona Švihlíková, rozvojový expert Tomáš Tožička a několik zaměstnanců, odborářů i nezaměstnaných reflektují tato témata v dnešní situaci České republiky a na pozadí různorodého spektra lidského podnikání - od textilu, skla, automobilů či sirek až po nadnárodní IT byznys. OP Prostějov, sirkárna Solo Sušice, moravská sklárna, kterou zachránily odbory, Hyundai Nošovice a lidé mezitím...
CZECH LION AWARDS – AWARD WINNINGS AND NOMINATIONS
2011 | Film reviewers award for best documentary |
Vít Janeček
NOMINATION