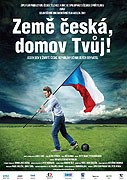 Země česká, domov Tvůj!
(The Czech Land, Your Home!)
Documentary / Experimental
Czech Republic, 2012, 90 min
* The information on films and the photographs are
automatically generated from the csfd.cz database.
Země česká, domov Tvůj! je celovečerní dokumentární film, jehož spolutvůrcem se může stát každý občan nebo obyvatel této země.Fotograf, režisér a producent Adolf Zika si s nápadem jediného filmu o tisíci kameramanech pohrával již před dvanácti lety. Technologie digitálních kamer tehdy ještě ale neumožňovala takovou tvůrčí svobodu, nakonec proto namísto toho v roce 2000 vznikla Poslední kniha století, aneb jeden den v životě České republiky. Systematické zaznamenávání cesty našeho života ho však neopustilo, ba naopak, stávala se z něho jistá posedlost. Film ne náhodou přichází v magické době věštbami obestřeného roku 2012. V době, kdy pociťujeme jednu z největších nejistot od dob sametové revoluce. Procházíme jen krizí finanční, nebo i krizí hodnot? Rozpadající se struktura EU, masová nedůvěra v politiku a její hráče, pozvolná apatie na straně jedné, agresivita a korupce na nejvyšší správní úrovni, prospěchářství, populismus, naprostý nezájem o názor řadového občana na straně druhé. Také mnoho úspěšných jedinců, skupin a projektů v krásné zemi v srdci Evropy. To všechno je dnešní Česká republika, to všechno je dnešní svět naruby, svět stojící před jistě nejednou historickou událostí.